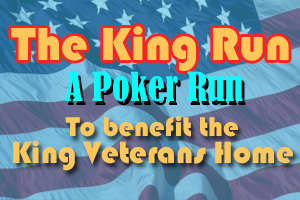 103.9 WVBO is happy to support the 12th Annual King Veteran's Poker Run on Saturday, June 30…raising money for the veterans that live at the Wisconsin Veterans Home at King, Wisconsin.
Pre-registration at Park Av. Bar in Oshkosh on June 29 from 6 to 9 PM.
* receive a free drink with your registration
* Entry fee will be $20 for single rider, and $30 for a double.
Day of Event Registration 8 to 10 AM at the Menominee nation Arena with a bike blessing to follow.
The Motorcycle Poker Run departs at 10am and heads to the King Veteran's Home for lunch and a special ceremony.  Then it's on to many great stops along the Poker Run.  We'll be back at the Arena by 4pm.
* winning poker hands at 5pm. Paying out the top five poker hands, with top prize $500.
* Maple Pub will have food available for purchase at the arena.
* Raffle items, and a 50-50 drawing at Arena with a 50 inch flatscreen LED TV ($5 per ticket)
---