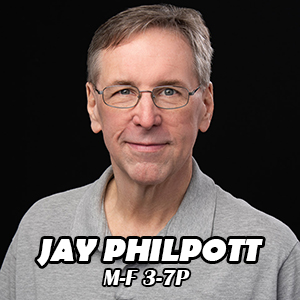 WVBO's new afternoon guy Jay Philpott has lived the theme song of WKRP in Cincinnati: "Town to town, up and down the dial." Jay is a radio lifer and has been on the air since he was 15…licensed by the FCC before being licensed to drive by the DMV! Jay has been to all FIFTY states and has lived/worked in a dozen of them, appearing on the air in places like Minneapolis, Seattle, Milwaukee (93QFM, Lazer 103, WKLH, WMYX and The Hog!), Norfolk/Virginia Beach, St. Louis, Dallas, Baltimore, Atlanta and now back in Wisconsin for the third time in the Fox River Valley!
Jay's passion in life is music and radio, and making sure you get great entertainment from Classic Hits 103-9. When not on the air, Jay likes to follow aviation and space travel, history and good health and has no problem jumping out of a perfectly good airplane – Jay likes to skydive and lives by the motto "Making a good first impression is important, but as a skydiver, it's best not to make any impression at all!"
Listen to Jay weekdays from 3-7pm and Saturdays from 2-6pm on Classic Hits 103-9 WVBO.